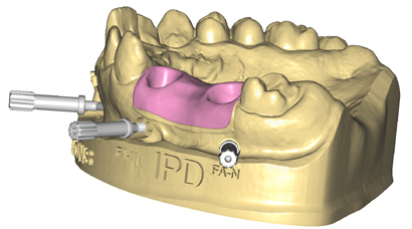 3D Model
Digital Analog
The analog allows locating the exact position of the implant in a 3D model.
The purpose of this is to enable to position the analog correctly in the model, simulating the exact position of the implant in the patient's mouth both in the vertical position and in the actual positioning of the geometry of the connection.
If these two positions are not correct, the height will vary the closure planes in multiple prosthesis, and lateral rotation will lead to an incorrect positioning of the analog, thereby varying the contact points and final anatomy of the tooth/prosthesis.
Our digital analog brings together all the characteristics that are required to maintain said parameters.
It has an innovative design with two fixing screws: one located in the lateral area and the other one in the base area. By using two fixing screws, we ensure a correct positioning of the analog. With an additional advantage provided by a transverse screw, as it allows working with articulated models, making it possible to mount and remove the analogs without losing the bite registration.
Scan Body
The new Scan Body is designed to be used both in a clinical setting by means of an intra-oral scanner, and also in a laboratory setting through a desktop scanner.
It is made with two biocompatible materials:
The upper part is made of Peek, a polymer that favors reading and locating the implant position.The lower part is made of Grade 5 Titanium which, given its opacity, it allows checking the correct placement and fit with the implant.
The third component is the screw, with is also made of Grade 5 Titanium. This component becomes "trapped" between both parts, preventing it from being able to fall out into the patient's mouth during placement.
The new Scan Abutment will always be screwed directly to the connection.
Ajustable height
As we are aware of the current market demand and also to cover all types of jobs, we have lengthened the chimney of the engaging interface to a total of 8mm. This allows to cut at a specific length using a guide piece that marks said height. This tooling is fixed to the interface using a transversal screw. Our library will contemplate different heights, so that the technician can choose the most convenient option.
Angulations
The non-engaging interfaces also have a cutting guide, that once placed on the interface and milled, it enables them to work with angulations.
This tool contemplates the necessary opening to facilitate the milling of the window, allowing to work with our TPA screw once the chimney is made for angulation.
We have considered all the necessary parameters to perform the angulated jobs in our CAD CAM libraries.
Angled interfaces are available for multiple restorations.